The San Francisco Bay Area's regional planning body, the Association of Bay Area government, lacks the transit planning and financing authority of the Met Council. The Bay Area transit network is provincial and defined by pre-existing municipal boundaries. Some of the transit agencies in the Bay area include Alameda County Transit, Sonoma County Transit, Marin Transit, Contra Costa County Connection, Santa Clara Valley Transportation Authority (VTA), San Francisco Municipal Transit (MUNI), San Mateo County Transit (SamTrans), Golden Gate Transit, and the San Joaquin Rail Commission. Each of these agencies either collects finances locally and independently and/or funded by the State of California.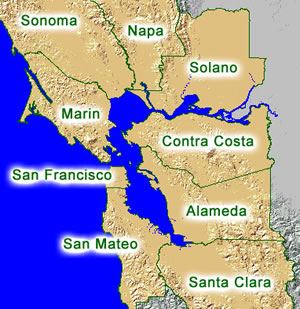 Only one system, Bay Area Rapid Transit (BART), demands major coordination between the different municipalities. Bay Area Rapid Transit (BART) is a 1970s heavy rail and subway system that provides service to five of the nine counties in the Bay Area: San Francisco County, San Mateo County, Contra Costa County, Alameda County with future service planned to Santa Clara County.
Brief History and Development of BART
A brief history of the development of the BART system is integral to understanding the problems it now faces. In the mid-1960s, when BART was first being planned, only Alameda, Contra Costa and San Francisco counties were able and willing to finance the initial development of the system. Because of the huge sunk costs contributed by Alameda, Contra Costa and San Francisco Counties during the initial creation of the system, there has been a lot of tension between the counties when expansion is proposed. BART has since expanded to San Mateo County.
According to the BART Fiscal Year 2013 Preliminary Budget Memo

[4]

, Bart receives revenue primarily from passenger revenue, parking revenue, sales tax, property tax, and California state transit assistance.
The sales tax and property tax revenue, when disaggregated, comes from the counties enjoying transit service. Sales tax comprises roughly a third of BART's revenue, and comes from a "75% share of a one-half cent sales tax levied in San Francisco, Alameda and Contra Costa counties" (Budget). Property taxes come from a permanent dedicated assessment in the same three counties. San Mateo County, not part of the BART district, funds BART through SamTrans)[2][3].
The map below, in orange, the residences of BART riders, and, in purple, the employment destinations. Even though the bulk of the ridership is centered on San Francisco, Contra Costa and Alameda Counties, the map clearly shows ridership in Santa Clara and Solano counties (which currently do not contribute, although Santa Clara VTA has recently entered into a similar agreement to that of SamTrans.
Contra Costa County only comprises 12.6% of total ridership, but charges all of its citizens sales tax to pay for the system.
[7]
But on a regional approach, the inclusion of Contra Costa County in the BART system has benefited Contra Costa County by allowing expansion of its suburbs, fueled by people wanting easy commutes to the San Francisco and Oakland job centers.
Conclusion
The goal of the system should be to increase access to Bay Area citizens rather to balance competing financing interests of the different counties. A transit system that provides access to the job centers of San Francisco, Alameda and San Jose is necessary to strengthen the downtowns of the three cities and job displacement and mitigate sprawl. Until a regional transportation body is able to levy taxes, no cross-county transit system will ever be able to fully provide service to the major commuter-sheds in the Bay Area

.
---
[1] Surface Infrastructure: Costs, Financing and Schedules for Large-Dollar Transportation Projects" General Accounting Office Report to Chairman, Committee on Appropriations, Subcommittee on Transportation and Related Agencies, House of Representative. February 1998.
[2]

Soap Opera drama between SamTrans and Bart, May 17 2006, http://vtawatch.blogspot.com/2006/05/soap-opera-drama-between-samtrans-and.html
[3]

http://www.bart.gov/docs/SettlementAgreement.pdf
[5]

SamTrans 2011 Budget and 2012 Proposed Budget presentation http://www.samtrans.com/AssetFactory.aspx?did=1458